Aeolian Electric: Wind-Powered Sculptures
Posted By Moe Beitiks On October 11, 2008 @ 1:00 pm In Art,New York City,Renewable Energy,Wind Power | 4 Comments
[4]
Although wind turbines [5] are a well-known green energy source [6], they remain an invention far removed from the public eye. However, Elliott Montgomery's recent Aeolian Electric Project at Solar One [7], a New York-based center devoted to promoting "green energy, arts, and education," worked to break down the barriers between energy users and energy makers. The exhibition began when a small group of artists were commissioned first to participate in a turbine design clinic, and then to contemplate the relationship between people and wind energy with the goal to develop their very own wind turbine. The result was a handful of wind-powered sculptures that made up the exhibit at Aeolian Electric, where visitors could grasp the artists' solutions– and give it a twirl themselves.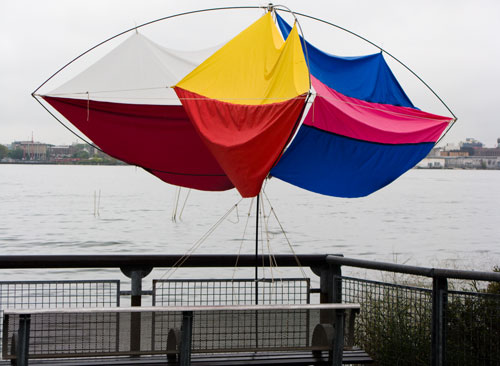 Garth Zeglin's Traveler
Elliott Montgomery begins the dialogue with his Wind Tree. The turbine was linked to a record player, providing it with the power that allowed visitors to hear the record speeding up and slowing down as the gusts gained and waned in strength. The constant audio feedback rendered the invisible force of wind audible, bringing viewers a new way to understand how much energy, or in this case wind, it takes to power a simple record player.
Two other pieces examined the nature of our relationship to wind: Joshua Space's Mirror Sail and Eric Foreman [8]'s Constrained Flight Structure No.3. Mirror Sail was exactly what it sounds like, a spinning set of mirrors, the perspectives on each determined by the breeze (in some ways, the wind creates the funhouse of sorts). Constrained Flight Structure manipulated an amputated set of bird wings: a comment, perhaps, on both our fascination with flight, and traditional turbines' mixed reputation for killing birds [9].
Garth Zeglin [10], displayed information about his personal wind turbine Traveler [11], designed to collapse like a tent and be carried by a nomadic individual looking to create their own energy. The same idea of the DIY wind turbine was also evident in the untitled work of Dominic Muren and Benjamin Renneberg, who sought to augment the expensive, ultra-efficient standard with a basic homemade prototype- showing that experimentation with wind power is not only for the professionals, but for anyone interested.
The modern wind turbine is quite often uniform in design: several blades around a basic rotor and although there have been recent new designs, Cade Peterson's The Wonders of Nature takes the aesthetics of wind turbine design one step further. Combining a brightly colored pinwheel with a small light, his wind-powered sculpture is intended to resemble a kaleidoscope.
Aeolian Electric was intended to make the process of creating energy from wind more accessible to the public by breaking down concepts relating to wind energy, wind aesthetic, wind philosophy and social meaning. Looking forward to what comes of these spinning solutions in the future!
+ Solar One [12]
Photos courtesy of Elliott Montgomery
---
Article printed from Inhabitat – Sustainable Design Innovation, Eco Architecture, Green Building: http://inhabitat.com
URL to article: http://inhabitat.com/aeolian-electric-wind-powered-sculptures/
URLs in this post:
[1] Tweet: http://twitter.com/share
[2] Share on Tumblr: http://www.tumblr.com/share
[3] Email: mailto:?subject=http://inhabitat.com/aeolian-electric-wind-powered-sculptures/
[4] Image: http://www.inhabitat.com/2008/10/11/aeolian-electric-wind-powered-sculptures/
[5] wind turbines: http://en.wikipedia.org/wiki/Wind_turbine
[6] well-known green energy source: http://www.inhabitat.com/2008/09/03/energy-ball-by-home-energy/
[7] Solar One: http://www.solar1.org
[8] Eric Foreman: http://www.ericforman.com/launch.html
[9] killing birds: http://http://www.awea.org/faq/sagrillo/swbirds.html
[10] Garth Zeglin: http://www.garthzeglin.com
[11] Traveler: http://garthzeglin.com/Traveler/
[12] + Solar One: http://solar1.org/
Click here to print.