Trees provide shade, produce oxygen, and store carbon - yet we often take them for granted until they're gone. To raise awareness of our leafy compadres, Mexico City-based creative studio
Maizz Visual
created Blink Twice, a visual installation that projects giant 3D motion faces onto the foliage of trees. The animated art show was seen by thousands of festivalgoers at the Summer Set Music Festival in Wisconsin this past August.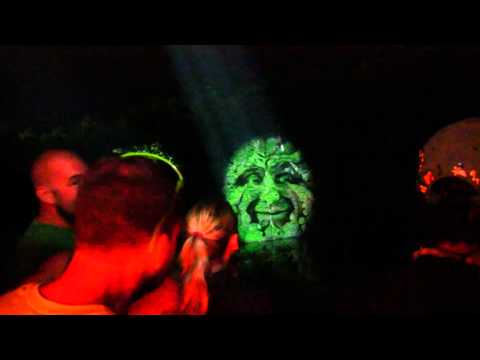 If Blink Twice looks familiar, you may have seen the traveling installation at various other festivals this summer. Blink Twice was also developed by the same team behind Dioses del Maiz, an audiovisual installation that projected the faces of Pre-Hispanic corn gods onto tree canopies in Mexico City as a protest against genetically modified corn. While Blink Twice explores tamer subject matter, the projected human-like faces are similarly derived from ancient folklore. The distinctive faces of the Green Men–representations of faces made from leaves and sprouts–were inspired by images of popular demigods associated with nature preservation and symbols of rebirth.
Related: Pre-Hispanic Corn Gods Protest Genetically Modified Maize in Mexico City
Four video projectors and optics were used to project the huge 3D animations onto the trees. Maizz Visual also used special software to animate the faces to make the Green Men move, gesticulate, and even follow the viewer's gaze.
Images via Maizz Visual