The Fahrradi Farfalla FFX is a Pedal-Powered Ferrari!
Posted By Marc Carter On May 14, 2012 @ 7:06 pm In automotive,Green Transportation,Innovation,News | No Comments
Ferrari [1] makes some of the greatest supercars in the world, but unfortunately drivers looking for a green supercar have had to look elsewhere. Until the upcoming Ferrari hybrid [2] debuts, Ferrari buyers now have a new option that has all the style of a Ferrari, but also the ultimate green powertrain. The Fahrradi Farfalla FFX [3] was created by Austrian artist Hannes Langwelder and is a followup to the Ferdinand GT3 RS that he created. What makes the Fahrradi Farfalla FFX the ultimate green supercar? Its V-12 gas engine has been swapped out with a set of pedals, meaning that this supercar is only powered by humans.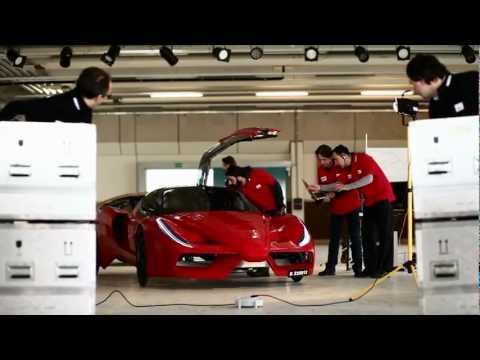 [4]
The name "Fahrradi" is German for "bicycle," and "Farfalla" translates to "butterfly" in Italian. The Fahrradi Farfalla FFX [3] weighs in at a very light 220 pounds and its pedal powertrain features 11 gears. The butterfly portion of its name is in reference to the rear axle that moves the wing doors while driving, resulting in a wing beat similar to that of a butterfly.
Although the one-off Fahrradi Farfalla FFX may look like it's just a fantasy, it's actually for sale, for a very, er, reasonable $1.6 million. It's currently on display at the LENTOS Museum of Art [5] in Linz, Austria.
+ Fahrradi [3]
---
Article printed from Inhabitat – Sustainable Design Innovation, Eco Architecture, Green Building: http://inhabitat.com
URL to article: http://inhabitat.com/austrian-designer-creates-the-ultimate-green-ferrari-the-fahrradi-farfalla-ffx/
URLs in this post:
[1] Ferrari: http://www.ferrari.com
[2] Ferrari hybrid: http://inhabitat.com/ferrari-confirms-new-hybrid-system-for-its-v12-models/
[3] Fahrradi Farfalla FFX: http://fahrradi.han-lan.com/
[4] Image: http://www.youtube.com/watch?v=ISEGDWpKAeY
[5] LENTOS Museum of Art: http://www.lentos.at/en/
Click here to print.