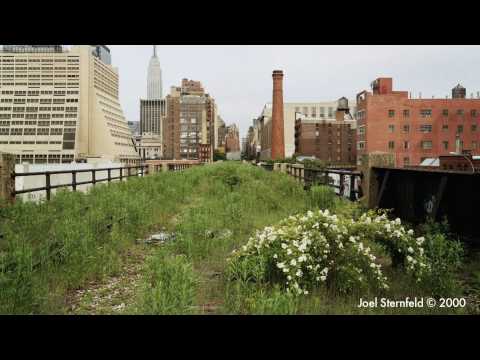 NYC's High Line is a project that exemplifies effective adaptive urban re-use in a city that is littered with structures and spaces that have since reached the end of their useful life. By turning an abandoned, elevated freight train track into a public park, this project has redefined the New York experience, affording never-before seen views of the city's surrounding natural landscape as well as an expansive and intimate look into one of the world's most dynamic urban environments. With the completion of the rest of the High Line currently in the works, we couldn't think of a better time to catch up with one of the brilliant minds behind the design of this beautiful public space. I recently sat down with landscape architect James Corner, the lead designer behind the High Line, to get his personal perspective on the what it was like to take an abandoned train track and turn it into one of NYC's best loved spots of greenery. Read on for my exclusive interview with James Corner below…


Jill: What originally attracted you to the High Line project?
James: The High Line had its own mythology long before we came along. In particular, the 'Friends of the High Line' were instrumental in creating this distinct image around the High Line – they established an aura that projected an idea that this was in fact a post-industrial artifact maintaining a sense of melancholy and other-worldliness in a city context that, by contrast, was ever-evolving and modernizing. But to take that detail and to actually instill and transform it into a public landscape where people can stroll, sit and enjoy amazing vistas across the city was too great an opportunity to pass up.
Jill: I think part of the inspiration that people around the world found in the original, untouched High Line was that there existed this unusual piece of wilderness in New York. How much of this aspect have you incorporated in your design?
James: Well, there were several influences from the beginning. One would be the post-industrial railroad character of the site – the rail tracks, the linearity, and the fact that it really is a thin, narrow ribbon that happens to be quite extensive. The entire High Line really cuts through blocks and buildings, and I sought to create a distinct juxtaposition where there is this green ribbon existing against the stoic grid of the city.
There is also this almost sad, melancholic, silence that permeates the place. As a visitor you can assume this mood and feel like you've come across a found object in a vast cityscape. You can stroll through the space and become a little bit of a voyeur, or a little bit of an observer, rather than being so visible.
These were the sorts of experiential or phenomenal characteristics we wanted the design to embody. We wanted to make sure that every detail from the paths to seating down to the trashcans, lighting and water features would make this a generous, safe and secure space, but also give people the feeling that they've come across a secret, magic garden in the sky. That they're almost surprised and delighted by how long it is, by the twists and turns it takes, by the views it affords, and ultimately that they are engaged in some of the delight in discovering these moments.