Some skiers and boarders will do anything for powder -- even live in a tiny house with four other people. Last year, five riders went on a quest across the western US and Canada living in a mobile tiny house with only 22.4 square feet per person. Towed by an old truck, the
Outdoor Research-sponsored
team lived it up for two months on the road. Zack Giffen and Molly Baker dreamed up the idea and with help from friends, the built the tiny house, which served as home base for the team on their journey which was documented by brother, Sam Giffin of
Right on Brother Films
who told us all about their journey. Giffin's film
Sidecountry Sessions
also reveals what it was like to live in a tiny, mobile house, and it includes lots of epic footage of last winter's powder.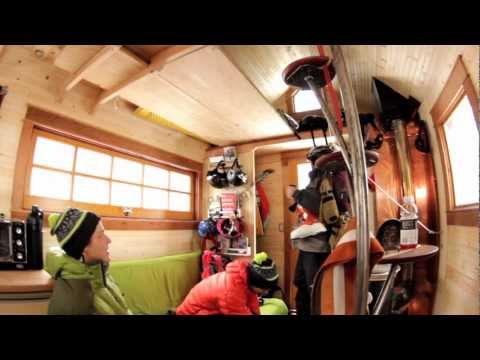 Sam Giffin, Zack Giffin and Molly Baker had a dream to follow winter storms in pursuit of fresh powder and film their journey, but to do it on the cheap they needed their own mobile accommodations. Rather than live out of an RV, they built a cozy Tiny House on a trailer chasis in less than 2 months and outfitted it to make the most out of the 112 sq ft of space. They invited Neil Provo and Andrew Walbon to share the house while they rooted out the best skiing possible. During construction, the Giffins were aided by their friends and woodworkers Paul Bauman, Mountain Jack Smith, Kiala Smith, and Tom Wilton (amongst others).
With five people in the house, that meant there was only 22.4 square feet per person. The upstairs was outfitted as a sleeping loft while the downstairs included a small kitchenette, table, futon, storage and a small wood burning stove. The house also has a darling front porch, is powered with propane and a generator, and features an ingenious, space-saving leaflet spiral staircase. Five bodies alone take up a lot of space, but skiing gear on top of that meant that the group had to minimize their possessions and stay organized.