Rolls-Royce Unveils World's First LEGO Jet Engine Made from 152,455 Bricks!
Posted By Evelyn Lee On July 11, 2012 @ 5:28 pm In Art,carousel showcase,Design,News | No Comments
Rolls-Royce [1] debuted the world's first ever LEGO Jet Engine at the Farnborough International Airshow [2] this week in England. The model is a half-size replica of the enormous Rolls-Royce Trent 1000 that powers the Boeing 787 Dreamliner [3]. It took 152,455 LEGO bricks, eight weeks, and a team of four fulltime employees to assemble the model. The engine's blades rotate just like the real thing, though given their plastic construction, they remain a little slower and a little less powerful. While the real engine weighs in at 1.25 tons, the LEGO replica still weighs a hefty 676 pounds and measures 4.9 feet long and 6.5 feet wide. Check out a time-lapse video of the assembly after the jump!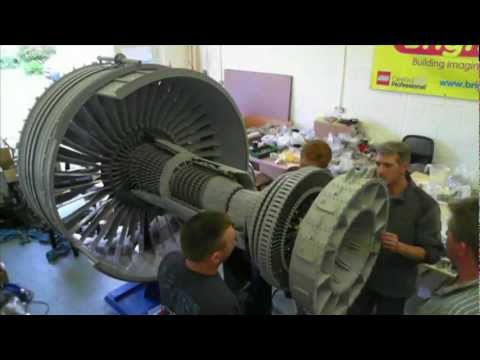 [4]
The model engine includes a cut away which shows off their rendition of the inner workings of the real engine, which almost certainly makes it one of the most complex Lego models ever assembled. A consulting team from Bright Bricks [5] was brought in to help with the assembly, but the overall composition could not have come together if it were not for the CAD drawings of the real engine.
Paul Stein, Chief Scientific Officer at Rolls-Royce noted, "Engineers have critical roles to play in solving the challenges of tomorrow, not least designing aircraft engines that will power people to the furthest corners of the world more efficiently… What we do is exciting and we hope that this representation of our technology will help to enthuse and inspire the potential scientists and engineers of the future about the career opportunities they could pursue."
+ Rolls-Royce [1]
---
Article printed from Inhabitat – Sustainable Design Innovation, Eco Architecture, Green Building: http://inhabitat.com
URL to article: http://inhabitat.com/rolls-royce-debuts-the-world%e2%80%99s-first-ever-lego-jet-engine/
URLs in this post:
[1] Rolls-Royce: http://www.rolls-royce.com/
[2] Farnborough International Airshow: http://www.farnborough.com/
[3] Boeing 787 Dreamliner: http://inhabitat.com/boeing-dreamliner-a-more-sustainable-aircraft/
[4] Image: http://www.youtube.com/watch?v=F9uf99bQvLU
[5] Bright Bricks: http://www.bright-bricks.com/
Click here to print.