This weekend, New York City's streets are animated with urban lab experiments and psychogeographic mappings at the 2008 Conflux Festival. Amongst them are several projects that send tendrils out to explore the dynamics of fiber, vegetation, and information transference in the wilds of urban landscapes. From hand-spun urban flotsam to wild sound-capturing nets to audio tours of the city conducted by plants, these featured events cast a net out over the spirit of creative urban exploration while also sneaking in some real concerns about sustainability and our relationship to our immediate surroundings.
Wildernets, designed by artists Doris Cacoilo, Mouna Andraos and Sonali Sridhar, is intended to net visitors into the auditory wild.  It features intricately crocheted nets rigged out with speakers to secretly emit the 'sounds of nature' to unsuspecting passer-byers. The essence of the project is the 'capture' of an outdoor experience, now tossed into an urban environment.
Inhabitat's own Abigail Doan is harvesting the tossed and forgotten flotsam of the city's streets and sidewalks and twining the recycled materials together in her piece, Urban Fiber Flotsam. In her quest, the artist has walked and gathered cast-off, fiber-based materials from the neighborhoods and shores of lower Manhattan. She has focused on neighborhoods with a long history of textile production, early farming practices, and unanchored vagrancy.
Urban Fiber Flotsam is an exploration of the way that 'free floating flotsam' drifts, and then attaches itself to the modern hunter-gatherer and eco-agent. Gathered materials include unanchored litter, random street debris, historical documents, loose vegetation, lost personal artifacts, textile relics, and culinary ingredients – all collected and 'twined' by the artist into a single fiber to unify the disparate threads of urban life.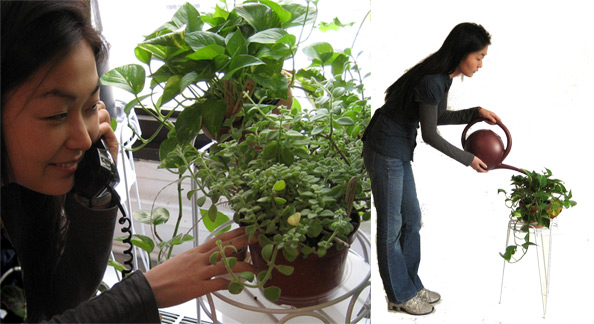 Amongst any vegetal cast of characters in an urban environment are native and cultivated plants, with their own botanical dialogue – shoots of weeds growing in sidewalk cracks, potted plants dropping leaves on porches, trees grazing scalps with their branches. These occurrences within the local landscape are made audible in the project, Botanicalls. Visitors call the project's phone line to be directed to a plant, which then speaks to them in a voice based on their species' character and growing habits. The cast ranges from native plants to wild grasses to curbside trees, all giving their perspective on local natural history.
In another plant walk, artist Elizabeth Whalley is painting effigies of rare, native, and endangered plants on the rocks and rubble of an East River park. The Brooklyn Plant Walk includes downloadable field and audio guides that encourages visitors to view the city within the context of its ecological past. Whalley will also invite viewers to suggest plant paintings in the hope that they will re-perceive the presence or absence of plants in the city and use these new insights to imagine a more sustainable urban landscape.