This is just one building in a series that make up the Kunsthof Passage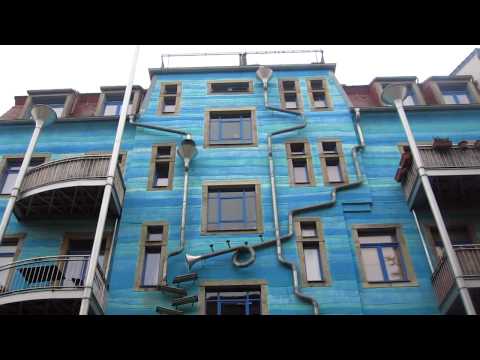 Artists Annette Paul, Christopher Rossner, and Andre Temple took inspiration from St. Petersburg's Rainy Theater, although the installation in Dresden is very different. The blue and green painted facade is interspersed with an unusual collection of crazy metal downspouts that lend a certain auditory art to a small recreational and shopping area. Other installations include the Court of Mythical Creatures and the Court of Metamorphosis.
Despite having suffered serious losses during World War II, this small German city owes its reputation as one of Europe's most environmentally progressive to its three natural reserves and the fact that more than 60% of its urban area is covered in green spaces. It is also sometimes referred to as the Jewel Box as a result of its astonishing collection of Baroque and Rococo architecture. As for the singing wall, we hope it brightened up your day as it did ours.
images courtesy fotocommunity, Kunsthof Dresden, and Allie Caulfield