Inhabitat: When did you start building it? And how far are you away from being done?
Austin Hay: I bought my trailer in July of last year and I want to be done before November.
Inhabitat: Any ideas as to where you'll go to college?
Austin Hay: Either of the Oregon schools or Cal Poly.
Inhabitat: What would you like to study? Architecture by any chance?
Austin Hay: I love math- it's my strong subject – but I must say I love to learn how things work and architecture is going to be part of my studies in college.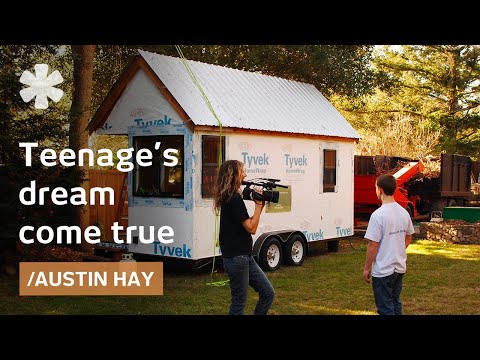 Inhabitat: What's your favorite part of the house?
Austin Hay: My favorite part of my house is that it is mine and has my blood, sweat and hard work put into it.
Inhabitat: And knowing what you know now, what would you do differently?
Austin Hay: I would have started soon and got more stuff ready but not much else. I learned a lot on the way.
See more of the house and learn more about Austin's fantastic philosophy to building tiny houses in the video below by FairCompanies.com. As he tells the interviewer, "I have heard of the tiny house movement and a lot of people say I'm part of it. And I'm glad to be part of it and show that it's easy to build one of these and anyone can do it." Wise words from a 16 year old.
Images ©Austin Hay