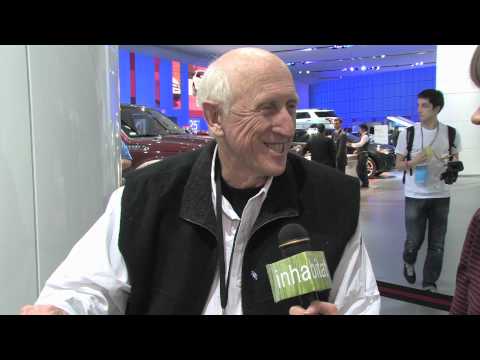 Stewart Brand is an author, environmentalist, and above all, best known for his work as the founder of the Whole Earth Catalog. In 1966 Brand was one of the first environmentalists to push NASA — already with satellites orbiting the Earth — to release a picture of the "whole Earth" from space. He believed that a photo could be a powerful image for the then very young environmental movement, and when it was finally delivered to the world by the US government in 1968, it helped push the creation of Earth Day in 1970. An eco-trailblazer from the start, Brand recently penned the Whole Earth Discipline: An Eco-Pragmatist Manifesto, his sixth publication which explores how the Earth and its people are propelled by three transformations: climate change, urbanization and biotechnology. Recently, our very own Editor-in-Chief Jill Fehrenbacher had the chance to pick Brand's brain, finding a thought-provoking discussion where Brand confers his belief that nuclear power might just be our green energy savior. Watch the exclusive video interview above and read the whole interview after the jump!
Brand has been a fighter for the world and in his honest pursuit for a better planet for the human race, he's getting real about what we need to do to fight climate change. Never one to seek consensus, in his recent publication, Brand speaks candidly about his thoughts on nuclear power, genetic engineering and geo-engineering, hoping that his peers and readers will challenge his views. One of his honest decisions was to begin fighting for more nuclear power plants – watch our interview with him (at the top of the post) to see his convincing argument behind that decision.
INHABITAT: What do you think about renewable energy like solar power? Do you think that it has potential?
BRAND: It's sad that we have to keep saying "potential" with regards to solar. It's been around for 40 years and should have proved itself by now. In terms of providing grid electricity at the scale of coal, it's not anywhere close to that yet. Wind is starting to gain significant speed, but environmentalists are learning that just to get a gigawatt of electricity from wind, it takes about 250 square miles of landscape.
Major solar application we'll see will be across the Mediterranean with North Africa where there's a mineral heavy desert and you don't care if there are major solar farms on the sand. Direct current electricity can be sent without a lot of loss as it travels north into Europe. But generally, wherever you have a green desert like we do in California – where I'm from – you've got a lot of green-on-green fighting going on about solar now because there you need 50 square miles of bulldozed desert to get a gigawatt of solar electricity. In this light, the initiative starts to have a not so pleasant tradeoff.